Third Hand Inc. Terms of Use
Access to and use of this Web site of Third Hand Inc. ("Third Hand") is provided subject to these terms and conditions. PLEASE READ THESE TERMS CAREFULLY AS USE OF THIS SITE CONSTITUTES ACCEPTANCE OF THESE TERMS AND CONDITIONS.

Use of Web Site Information
The services, information, data, artwork, text, video, audio, pictures and other materials (collectively, "Materials") contained on the Web site are owned by Third Hand and its suppliers and are protected by copyright laws and international treaties. Any such Materials contained in the Web site may be the subject of other intellectual property rights of Third Hand and its suppliers that are reserved by Third Hand and its suppliers and are not licensed hereunder.

Except as otherwise specifically provided, you may only access and use the Materials for informational, educational or other non-commercial purposes. You may not modify or use the Materials for any other purpose without the express written consent of Third Hand. Except as provided below or as specifically permitted in other sections of the Web site, you may not reproduce, republish, post, transmit or distribute any Materials on the Web site.

You may print Materials on the Web site for your own informational, educational and other non-commercial purposes only, and you must include all copyright and proprietary notices originally included with the Materials in all copies.

Disclaimer
This document is provided for informational purposes only and the information herein is subject to change without notice. Please report any errors herein to Third Hand. THE INFORMATION, PRODUCTS, SERVICES AND OTHER MATERIALS CONTAINED ON THIS WEB SITE MAY BE OUT OF DATE OR INCLUDE OMISSIONS, INACCURACIES OR OTHER ERRORS AND Third Hand MAKES NO COMMITMENT TO UPDATE THE MATERIALS AT THIS SITE. EXCEPT WHERE EXPRESSLY PROVIDED OTHERWISE IN AN AGREEMENT BETWEEN YOU AND Third Hand, ALL INFORMATION, PRODUCTS, SERVICES AND OTHER MATERIALS ARE PROVIDED "AS IS" WITHOUT WARRANTY OF ANY KIND. Third Hand HEREBY DISCLAIMS ALL WARRANTIES WITH RESPECT TO THIS INFORMATION, PRODUCTS, SERVICES AND OTHER MATERIALS, WHETHER EXPRESS OR IMPLIED, INCLUDING THE IMPLIED WARRANTIES OF MERCHANTABLILITY AND FITNESS FOR A PARTICULAR PURPOSE. Some jurisdictions do not allow the exclusion of implied warranties, so the above exclusion may not apply to you.

Limitation of Liability
IN NO EVENT SHALL Third Hand NOR ANY OF ITS LICENSORS BE LIABLE FOR ANY DAMAGES WHATSOEVER, AND IN PARTICULAR, Third Hand SHALL NOT BE LIABLE FOR SPECIAL, INDIRECT, CONSEQUENTIAL, OR INCIDENTAL DAMAGES, OR DAMAGES FOR LOST PROFITS, LOSS OF REVENUE, OR LOSS OF USE, ARISING OUT OF OR RELATED TO ANY Third Hand WEB SITE OR THE INFORMATION CONTAINED IN IT OR ANY OTHER HYPERLINKED WEB SITE, WHETHER SUCH DAMAGES ARISE IN CONTRACT, NEGLIGENCE, TORT, UNDER STATUTE, IN EQUITY, AT LAW OR OTHERWISE, EVEN IF ADVISED OF THE POSSIBILITY OF SUCH DAMAGES.

Links To Third Party Sites
This Web site may contain hyperlinks to Web sites controlled by parties other than Third Hand. Third Hand is not responsible for and does not endorse or accept any responsibility over the contents or use of these Web sites.

Applicable Law
This Web site is administered by Third Hand from its offices in Union, Kentucky. Third Hand makes no representation that materials at this Web site are appropriate or available for use outside the United States, and access to them from territories where their contents are illegal is prohibited. You may not use or export or re-export the materials at this Web site or any copy or adaptation in violation of any applicable laws or regulations including without limitation U.S. export laws and regulations. If you choose to access this Web site from outside the United States, you do so on your own initiative and are responsible for compliance with applicable local laws. These Terms will be governed by and construed in accordance with the laws of the Commonwealth of Kentucky without giving effect to any principles of conflicts of laws.

Trademarks, Registered Trademarks, and Service Marks of Third Hand Inc.
A list of Third Hand's trademarks appears below. Third Hand prohibits the use of the Third Hand logo as a link to any other web site unless the establishment of such a link is approved by Third Hand Inc.


Third Hand Archery Accessories®


For more information about Third Hand trademarks,
contact Third Hand's Legal Department at (800) 339 0232

Copyright © 2005 Third Hand Inc., All rights reserved.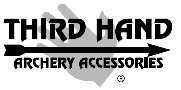 Legal Notice | Privacy Policy | Terms of Use